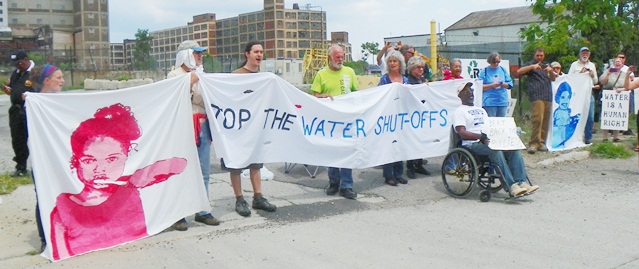 Dear Friends:
Please help us pack the courtroom in support.
On November 18 at 8:30am members of the Homrich 9 are scheduled to go to trial in 36th District Court before Judge Ruth Garrett. Marian Kramer and Bill Wylie-Kellermann are slated to be heard by a jury, the remainder of the group (Hans Barbe, Marianne McGuire, David Olson, Jim Perkinson, and Kim Redigan), by bench trial before the Judge. As allowed by her order the latter group are preparing a necessity/duress defense which presents the moral sanity of their action justified in the face of unaffordable rate-hikes, massive water shut-offs, public health crisis, privatization, and a non-elected government violating  public trust and human rights. The trial could last anywhere from 3 to 7 days. 
Please help us pack the courtroom in support.
(For update information contact Joan Smith 402-689-8878 joan.ligeia@gmail.com. Note:  Joan Smith and Baxter Jones who also blocked are not currently facing charges.)
Please attend as many of these events on Wednesday 11/18 as you are able:
8:00am Press Conference outside the courthouse
8:30am In the courtroom – jury selection should begin
Noon – rally on the plaza in front of the court.
1:00pm (or by the Judges schedule) afternoon session of case
4:30pm – debrief the day together and planning for the next, at place nearby
Other events surrounding and related: 6pm Tuesday evening 11/17 Main Library, showing of Kate Levy's water film, Detroit Minds Dying, which in part portrays the action; Thursday evening 6pm DIA – Judges Rhodes and Rosen of bankruptcy and Grand theft infamy, receive the Dennis Archer Public Service award from the Detroit Bar Association. Leafleting, banners, light, and events preceding.
Thanks to all!
Post Script Note: As of this sending we have notice that a hearing has been called for 1:00pm Monday (11/16) in Judge Garrett's courtroom with motions from the prosecution in a last ditch attempt to postpone again or otherwise prevent this trial.