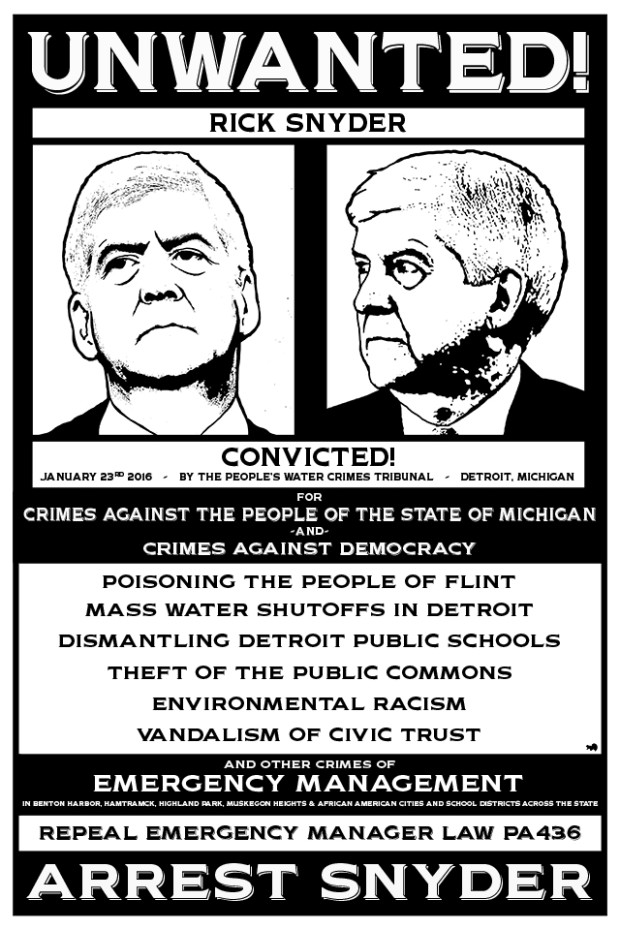 By Shea Howell
December 26, 2016
The people of Michigan can take some comfort in the recent criminal charges brought against two emergency managers responsible for the disaster in Flint. This is the first formal acknowledgement that the poisoning of Flint is directly tied to the lack of democratic control. Former Emergency Managers Gerald Ambrose and Darnell Earley were charged with criminal conspiracy. These charges affirm what most people in Michigan know. Emergency Managers are a means of sacrificing public safety and health in order to save money. In the course of these savings, some well-connected businesses make money.Even Attorney General Bill Schuette, who has vigorously defended emergency management laws, was forced to admit that the irrational drive to make public decisions based on balance sheets is at the core of this disaster. During the press conference announcing the filing of criminal charges Schuette said, "There was a fixation on finances and balance sheets. This fixation has cost lives. This fixation came at the cost of protecting health and safety. Numbers over people, money over health."
This fixation did not happen by accident. It is imbedded in the philosophy of the right wing republican legislature that dominates our state. It is the core belief of the Governor who champions private businesses as inherently better than public services. It is also the notion embraced by president-elect Trump. He clearly intends to bring business, profit seeking, and private wealth to the plundering of the country. As Flint so clearly demonstrates, these ideas are disastrous for people and for the natural world on which we depend.
Two things are clear in these criminal charges. First, Emergency Managers were concerned about something more than "saving money." They are also beholden to the forces that appoint them and support their use over publicly elected officials. Both Ambrose and Earley used their positions to commit the financially troubled city of Flint to long-term loans that would benefit Wall Street and the Karegnondi Water Authority.  Something more than saving money was involved. Both are charged with using false pretenses to put Flint in the position of leaving the Detroit Water System and committing it to the use of the Flint River.
As the Attorney General's special prosecutor indicated, "Without the funds from Flint the Karegnondi Water Authority (KWA) Pipeline would have to be mothballed. However, as a bankrupt city, Flint needed the Michigan Department of Treasury's approval to get loans." Todd Flood, special Flint water crisis prosecutor described their actions as a "classic bait-and-switch."
Second, the emergency management legislation is the direct result of the efforts of Governor Snyder. As citizens voted against the legislation that allowed governors to appointment unaccountable individuals to control city resources, Snyder told his business buddies not to worry. He pushed through PA 436 in a lame duck legislature, against the clear will of the majority of people. This is Snyder's law, Snyder's idea, and Snyder's responsibility.
But Snyder is not alone in this. The idea that the best way to think about public responsibilities is by looking at balance sheets is shared by many others. Mayor Duggan in Detroit upholds this notion. It is behind his irrational commitment to water shut offs. In the face of ongoing concerns of human rights abuses, the inability of people to keep up with payment plans, escalating water bills and concerns for public health, Duggan continues to shut off people from life giving water. His efforts to assist people in paying bills have failed miserably. Now he has authorized over 12 million dollars to a private corporation to continue to shut people off.
Whatever comes of these indictments, the idea that saving money is the only responsibility of government is a disaster for people and the planet. The idea that good decisions are made by unaccountable officials is a lie. The real questions before us cannot be answered with balance sheets. They require us to think with our hearts.