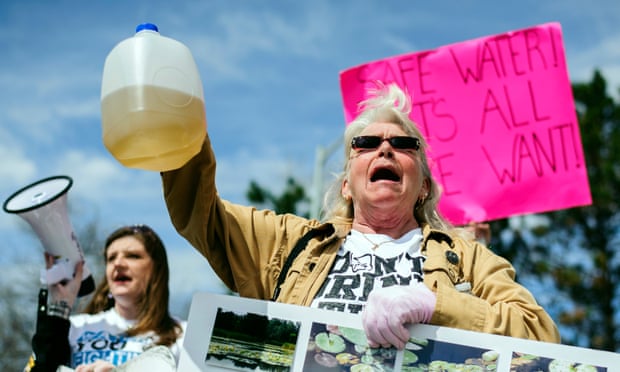 Flint's state of emergency is a sign that democracy is working there again
By Curt Guyette
December 16, 2015
Excerpt: "As early as February of this year, according to emails obtained through the Freedom of Information Act by the ACLU of Michigan, the US Environmental Protection Agency began raising concerns that the highly corrosive river water, along with everything else, was beginning to eat away at the pipes carrying water to Flint's 40,000 homes. And of particular concern to residents and the federal government alike was the effect of the corrosive water on an untold number of lead service lines and leaded home plumbing.
Despite mounting evidence that levels of lead in the city's drinking water were increasing, the state – and the city officials under their control – adamantly maintained that the water was safe.
If not for a determined coalition of residents who refused to swallow those false claims in addition to the toxic water provided to them by the order of Snyder's appointee, the full extent of the problem might never have come to light.
Instead of relying on the government, the residents teamed up with experts at Virginia Tech and the ACLU of Michigan (where I am employed as an investigative reporter) to conduct their own independent tests, which clearly showed that lead levels in the water were a severe threat, especially to children and pregnant women.
Even after the results of those tests were revealed, officials at Michigan's department of environmental quality (MDEQ) continued to insist that the water was safe.
But they were politically motivated to downplay any problem. The MDEQ, like the emergency manager who made the decision to begin using the river as Flint's water source, is an appointee of the governor. What is the likelihood that one gubernatorial appointee is going to announce that a decision made by another gubernatorial appointee is resulting in the widespread, systematic lead poisoning of children?
It certainly didn't happen in Flint. Even after the city council voted earlier this year to return to the Detroit system, the appointed emergency manager effectively vetoed the decision.
But then, in September, an independent study conducted by a Flint-area physician showed that the number of children with elevated levels of lead in their blood had doubled following the switch to the river. Only after this study was published did Governor Snyder and his MDEQ concede that the river water was the cause of the disaster and allow the city to switch back to Detroit's water system."