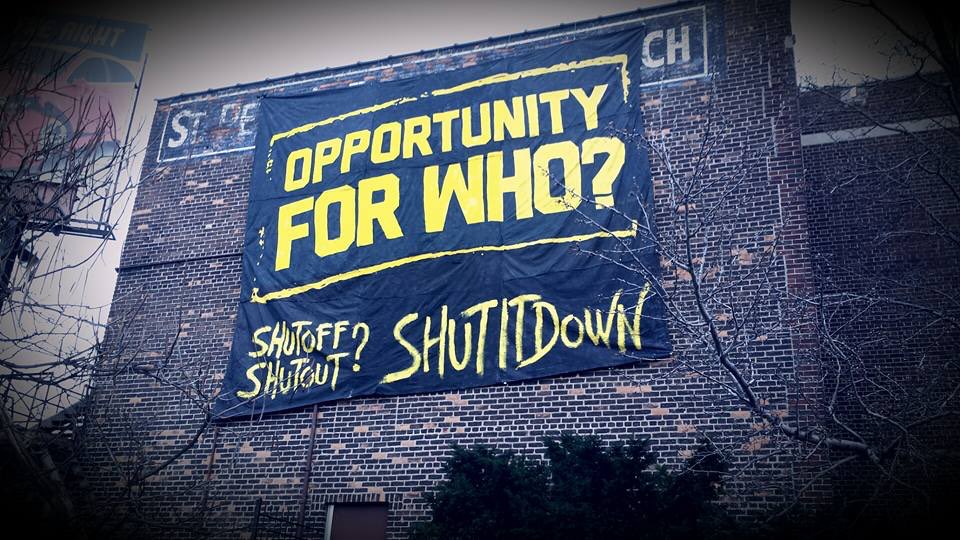 Dear Friends,
May 2016 marks 10 years that Bill Wylie-Kellerman has been pastor at St. Peter's Episcopal Church in Corktown. Or "pastor in charge" to be technical: a nod to the ecclesiastical hoops navigated to place a Methodist minister "in charge" of an Episcopal parish.   Unusual maybe, but what has not been unusual about Bill's entire ministry?  What has not been unusual about St. Peter's history?  For that matter, what has not been unusual about Detroit for the past ten years?
You may know Bill as a friend, colleague, neighbor, fellow water warrior, Manna Meal volunteer, war resister, co-defendant (Homrich 9 and others!), teacher, preacher, father and now grandfather.  We know him also as pastor.  We invite you to help us celebrate Bill's tenth anniversary at St. Peter's on Sunday May 15 at Michigan and Trumbull. The service and celebration starts at 10:30 a.m., followed by music and a community potluck. Please bring a dish to pass if you are able.

When we started thinking about how best to acknowledge this occasion, the first thing of course was a party!   With everybody invited!  Come to the table at the front of the church for a joyful liturgy with music and spirit. Then come to the table at the back of the church for a joyful potluck feast and fellowship.
We also want to gift Bill with a much needed, brief sabbatical in September of this year.   Let him get away to write, rest, be.  We want to cover the cost of that sabbatical, both for him and for St. Peter's.   Our fundraising goal is $7000.As an old preacher once said: "The good news is that the money is there to make this happen.   The bad news is that most of it is still in your pockets!"   We are asking that people give as they can to allow Bill a well deserved, much needed time away.
We have a special treat, a print by the artist John Augustus Swanson that will be available for those who are able to give $100 or more. Donations can be made online or by check.   Please specify that it is for Bill's celebration.  There are more details on St. Peter's website www.stpetersdetroit.com.   But please, help us celebrate!   Come on Sunday May 15 to celebrate the gifts Bill brings to you and the world! Donate if you can.  Please feel free to write a note of congratulations/good wishes and send it along to Bill. You can also post notes to him on the website.  Pray for Bill, for all us and for our beloved City.   God knows we all need it.  On behalf of all the vestry,
Peace,
Cindy Tobias, first warden
Bob Chapman, second warden
Click here to read Bill's reflections on his 10th anniversary at St. Peter's.